12 Bottle Case boxes
Using cardboard wine boxes are cost effective, Earth friendly solutions for your storage or shipping needs.
Looking for a convenient, economical way to store your wines? Maybe you want to display your wines to showcase your variety of varietals? Then our traditional corrugated cardboard wine boxes may be exactly what you need.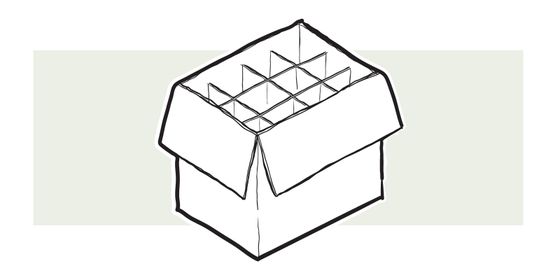 Store Your Wines Or Display Them With Pride – Check Out Our Cardboard Wine Boxes Today!
Efficiently Store Your Wine With Corrugated Wine Boxes
If you're a specialty wine shop, smaller winery, or just want to efficiently store your wine on your sales floor or warehouse, than our cardboard wine boxes are just what you're looking for. Our corrugated wine cases can accommodate any size bottle and configuration you need, allowing you to maximize your floor space beautifully.
Great For Small Deliveries And Short Distance Shipments
Corrugated cardboard is still among the most popular methods of shipping wine direct-to-consumer. For those short, across town shipments our wine boxes will get the job done.
Environmentally Friendly
Concerned about the environment and your brand's reputation? Corrugated cardboard wine boxes are reusable and recyclable, making them favorable to the environment and your company's public image.
You Need It, Our Warehouse Has It
How many and what size? If you have a van-sized order or need to fill a tractor-trailer, we're sure to have the number of wine boxes you need in stock.
Customize Your Boxes
Boxes aren't just used for shipping or storing wine anymore. Often times the wine boxes come right off the truck and onto the sales floor to build beautiful displays of your wine. Don't worry. Our wine boxes come in kraft or white and you can have your company logo custom printed on them – great for brand exposure and adding a touch of class.
Get Our Case Packs At An Affordable Rate
Our wine box pricing is competitive. Call us so we can find out exactly what your needs are and determine the right price for you.
Storage and shipping costs are critical to your bottom line. Custom printing and environmental awareness are important to your brand's exposure and reputation. With our traditional cardboard wine boxes, you can take care of all four in one shot.
With many years experience in the protective wine packaging industry, we know skimping on quality is not an option – and so do you.